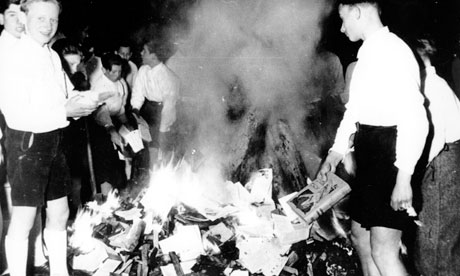 Berkeley or Berlin –
What Is Happening to Our Youth?
The comparison in these photos still haunts me – Berkeley or Berlin? The similarity is even more cutting after I read this article by a woman who lived in Germany during the Nazi Regime: http://ijr.com/2017/02/797086-youve-heard-people-compare-trump-to-hitler-so-we-asked-a-woman-who-was-born-in-nazi-germany/  That's why I'm reprising a post I put on Facebook in the hopes that some brave parent out there will bring the light of their awareness into their child's situation.
I've pretty much kept my mouth shut on Facebook during the last year, and when people's words got ugly and didn't match their claims to being loving and spiritual, I quietly unfollowed them. But, once I saw the photos I'm sharing, I felt like I had to speak.

They say a picture is worth a thousand words. Which one of these pictures is kids acting out at Berkeley and which one is the Hitler Youth burning books? It's kind of hard to tell, isn't it?

The similarities are stunning – both sets of kids are being groomed to believe it's okay to deny someone else their right to free speech. Both sets of kids are being groomed to use violence to enforce their belief that they are the chosen people and, therefore, entitled to behave as they will. Neither appears to have room in their hearts or minds for a dissenting voice. In Germany, the political programmers were on the far right. Today, I believe, they are on the left. I was staggered when I saw the kids at Berkeley follow the propaganda spread by a politicized media without question.

The people who follow a political instigator of violence into a riot, as if they believe it is okay to injure someone who doesn't agree with them, might want to consider what the First Amendment says. When I look at what is happening on some of our college campuses, I can only conclude that there is something perverted and evil overshadowing our colleges and universities, training the next generation to dishonor the freedom that our ancestors fought for.
Repeating the Past
One of my dear friends asked me why I wrote this post, since I already had decided to focus on creation not correction. I wrote both these posts in memory of Fania Fenelon, one of the Musicians of Auschwitz who I was honored to see when I worked at ITV in Manchester. I will never forget her tenacity, courage, and humor. I will always remember her words, when she was asked about her time playing in Mendel's orchestra for people who marched to their deaths in Birkenau, the female section of Auschwitz. They went something like this:
My nostrils have ash embedded from those who were burned in the ovens. Every time the wind blows, I can smell the ashes to this day.
Remain silent? How could I? History keeps repeating itself until we bring awareness to the pattern. Too many people in Germany were silent as the youth were conditioned to believe they were superior and that everyone else deserved to die. May the light of awareness shine on all of us so that we can create a new way of being in this time of chaos.
Save
Save
Save
Save
Save
Save
Save
Save